25TH MEETING OF THE ECO COUNCIL OF MINISTERS WAS HELD IN ASHGABAT
On November 27, 2021 25th Meeting of the Council of Ministers (COM) of the Economic Cooperation Organization (ECO) was held in Ashgabat to participate in which the heads of the foreign policy agencies of the ECO member-countries arrived to Turkmen capital.
The delegation of Turkmenistan was headed by the Minister of Foreign Affairs R.Meredov.
At the beginning of the Meeting, the former ECO Chairman, the Foreign Minister of the Republic of Turkey Mevlüt Çavuşoglu made his inaugural remarks. Then the floor was given to the ECO Secretary General Khusrav Noziri who in his opening remarks greeted the participants and briefed on the current activities of the Organization.
The Chairman of the 25th COM Meeting of the ECO, the Minister of Foreign Affairs of Turkmenistan R.Meredov in his speech noted that this Meeting for many years served as an effective mechanism for the development and strengthening of trade-economic relations in the ECO space which repeatedly used for the exchange of views and other actual issues.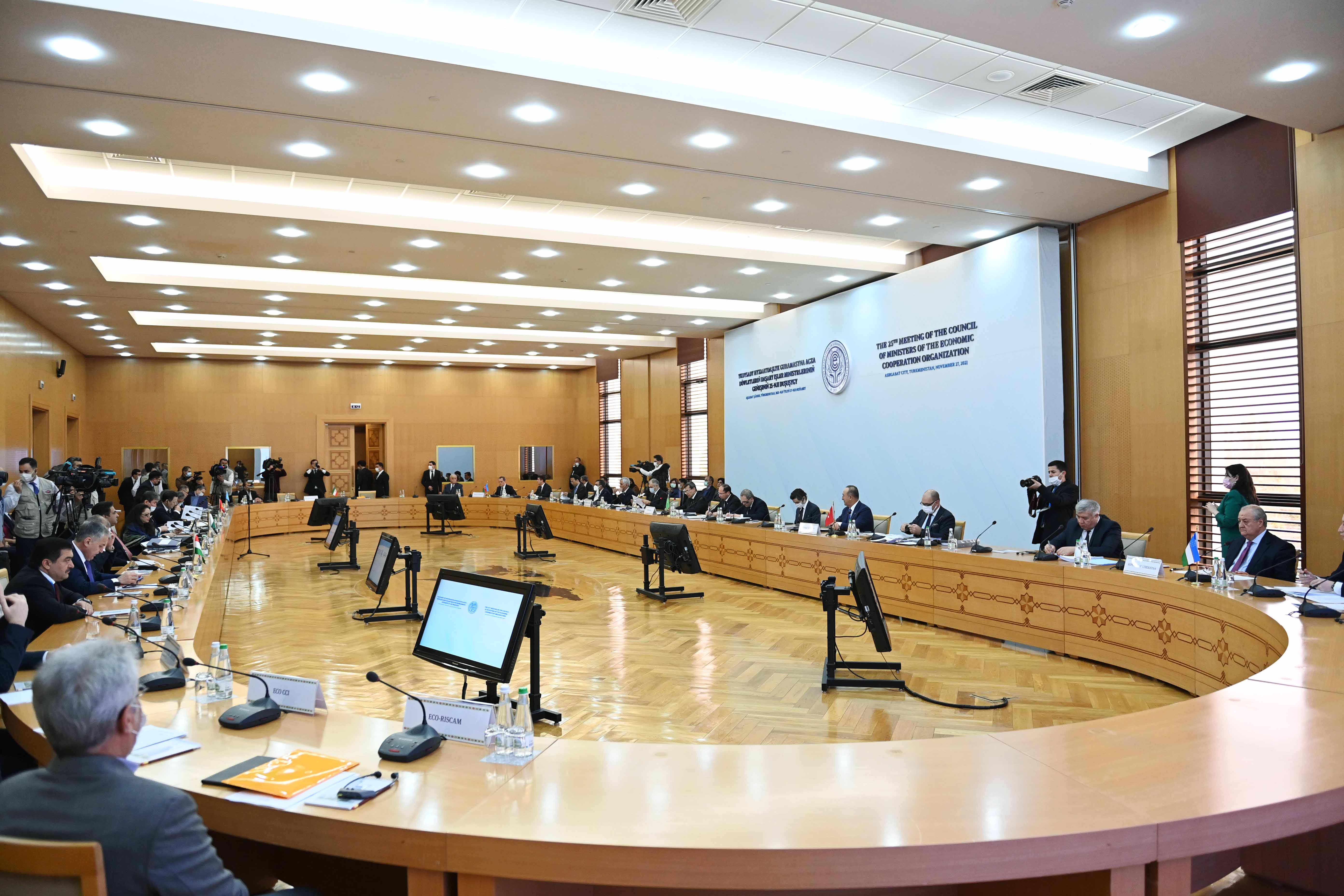 As is known, in accordance with the Concept of Turkmenistan's chairmanship in the ECO in 2021, a number of key tasks were highlighted, such as the intensification of investment activities in the Member States, creation of free trade and economic zones, formation of new economic corridors and establishment of partnerships in the field of sustainable energy.
Also in the framework of the Meeting the Ministers of the Member States and the Heads of ECO Specialized Agencies delivered their statements.
During the Meeting the participants considered the Report of the ECO Secretary General and Recommendations on ECO Regional Projects (2021-2022), where the main economic achievements of the Organization during the reporting period regarding economic efficiency and effectiveness, review of the current projects and programs of the ECO. The Midterm review of the ECO Vision 2025, the issue of the adoption the Charter on establishment of ECO Clean Energy Center, review and approval of Annual Reports of ECO Specialized Agencies, Regional Institutions and Affiliated Bodies were included into the agenda.
One of the themes of the discussions was the issue of the Preparation for the upcoming 15th ECO Summit. In this context the exchange of views took place on the projects of the Draft Agenda of the Summit, Draft Ashgabat Consensus for Action, as well as the documents to be signed in the course of the current Forum on high level.
Following the results of the Meeting the Council unanimously adopted the Report of the COM Meeting.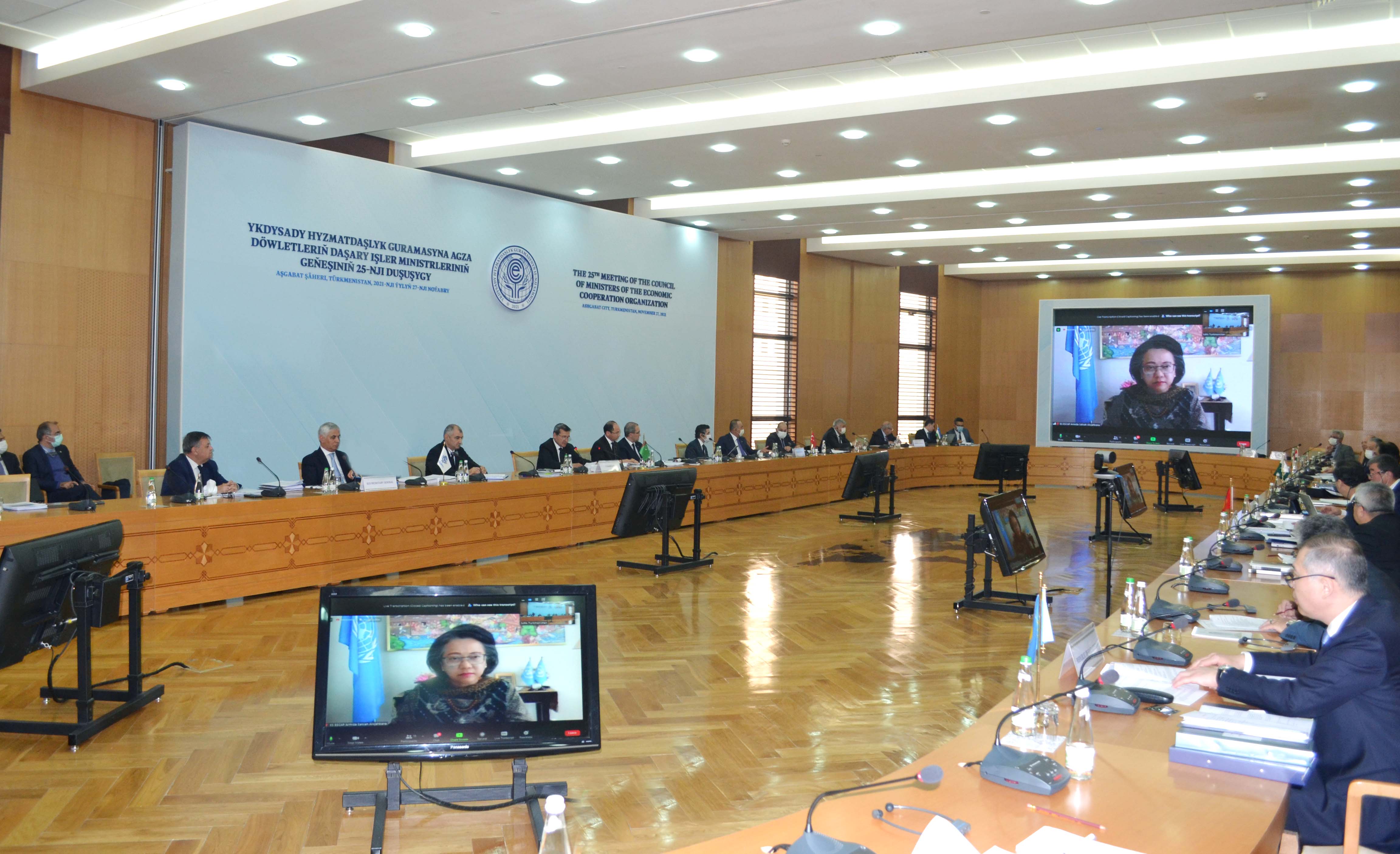 In addition in the framework of the Meeting a ceremony of signing a number of documents was held including the document "Memorandum of Understanding between the Economic Cooperation Organization (ECO) and the United Nations Economic and Social Commission for Asia and the Pacific (UNESCAP) was signed.
25th Meeting of the ECO Council of Ministers was held in Ashgabat (mfa.gov.tm)